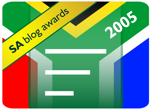 Tonight is the night where the winners of the SA Blog Awards will be chosen.
Events happening in Joburg, hosted by the Joblog boys and one in Cape Town Hosted by CherryFlava.
Have fun guys, pity nothing planned yet for Durbz this year, I think due to the fact thier aren't to many bloggers here, but Next year, we will definetley make a plan.